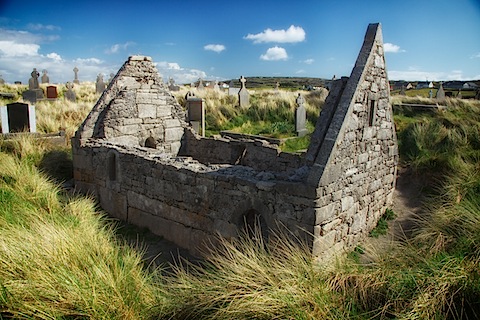 Auf Inishmore, der größten der drei Aran-Inseln vor Irlands Westküste, liegt St. Enda's church. Die Klosteranlage, zu der es gehörte, geht zurück auf Enda, Sohn des keltischen Königs Conall, der zunächst in Ulster den Vater beerbte und in zahlreiche Kämpfe verwickelt war, bis er durch seine Schwester Fanchea zum Glauben fand. Er legte die Waffen nieder und legte, vermutlich zunächst im von St. Ninian gegründeten Kloster Casa Candida in Whithorn im Süden Schottlands, das Mönchsgelübde ab.
Im Jahr 484 schenkte ihm sein Schwager, der König von Cashel, Land auf Inishmore. Enda gründete ein Kloster mit einer später sehr berühmten Klosterschule, weitere Klostergründungen folgten in den Jahren danach. Unter Endas Führung lebten dort schon bald 150 Brüder in schlichten Steinzellen um eine Kirche und ein Refektorium herum. Die Inseln wurden zur Attraktion für Pilger und bekamen den Beinamen "Aran of the Saints". Auf der kargen Insel lebten die Mönche ein sehr einfaches Leben, und doch gingen von hier Impulse nach ganz Westeuropa aus. Unter anderem sollen sich Ciaran von Clonmacnoise, Brendan der Seefahrer und Columba, der spätere Abt von Iona, dort zeitweise aufgehalten haben.
Dass auf dem (Mini-)Athos des Westens heute nur noch Ruinen zu finden sind, liegt – wie eigentlich überall in Irland – an den Verwüstungen der Wikinger und der Soldaten Cromwells, die aus den Steinen des Klosters eine Festung bauten und die verbliebenen Mönche dort ins Verlies sperrten. Rund um die kleine Kirche sollen neben Enda selbst 120 Heilige beerdigt sein.