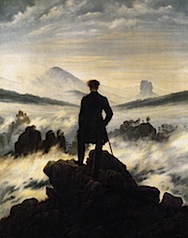 Alan Roxburgh analysiert in Missional Map Making mehrere spätmoderne Entwicklungen: Globalisierung, Pluralismus, drastische Armut, Demokratisierung des Wissens, rasanten technischen Fortschritt und mehr. Als letztes erscheint die Rückkehr zur Romantik. Caspar David Friedrichs Wanderer über dem Nebelmeer versinnbildlicht, worum es dabei geht: Der einsame Wanderer hat einen Punkt klarer Sicht oberhalb des trüben Schleiers gefunden, der über den Niederungen der Zivilisation (und, so würden wir heute hinzufügen ihren Abgasen) liegt. Sein Blick schweift in die grenzenlose Weite und sieht erhabene Dinge.
Ähnlich sehnen wir uns heute danach, unserer undurchschaubaren und unkontrollierbaren Welt ein Schnippchen zu schlagen und uns aufzuschwingen zu einer reinen, unverstellten, idealen Vision von Jesus und dem, was Kirche zu sein hat. Es ist der begreifliche Versuch, den trübenden und betrüblichen Auswirkungen unserer Kultur zu enteilen. Dabei verrät schon die Semantik der Buchtitel ("wild", "ungezähmt") den Romantiker. Das Marketing der Verlage spielt diese Karte im Übrigen kräftig mit.
Auf den ersten Blick ist das sehr sympathisch und erfrischend attraktiv, doch der Anspruch neuer Klarheit inmitten gegenwärtiger Wirrungen ist nicht einlösbar. Denn auch der Hang zur romantischen Verklärung (siehe "Avatar") gehört zu unserer Kultur. Er ist nur das Gegenstück zum Technokratentum, sein Schatten, aber nicht seine Überwindung. Am Ende drohen wieder fünf-Punkte-Programme oder drei Schritte zum missionalen Erfolg.
Theologisch genau betrachtet ist die Idee, mit einer reinen Schau der Dinge vom Berg der Verklärung herabzusteigen und andere mit dieser Erkenntnis von ihren Täuschungen zu erlösen, eine milde Form des Gnostizismus. O-Ton Roxburgh (da kommen die Anspielungen besser heraus):
All the idealists, with their wonderful dreams of a new future and a different kind of world, are reemerging, telling us about the shape of things to come or presenting us with some past moment in history that gives us clues to how we are to function in the new space.
… Such are the dreams of the new Gnostics. When our maps of the world no longer mark where we are, many will look for the Pied Piper who can lead them on the new "right" path. In this new space, looking for a mysterious stranger to provide all the answers is a beguiling temptation but nevertheless a false and unrealistic hope.