Gestern bin ich über Ehrensenf auf diesen Blogpost gestoßen, der den sonst oft so unsichtbaren (oder vertuschten bzw. weichgezeichneten) Kontrast von Armut und Wohlstand ganz scharf abbildet. Das muss man sich einfach mal ein paar Minuten ansehen.
Auf derselben Website ist via Flickr eine Skulptur von Dennis Oppenheim zu sehen, deren Titel Device to root out evil lautet. Es zeigt eine Kirche, die auf dem Kopf steht und mit der Turmspitze in den Boden gerammt ist. Sie wurde anscheinend aus Stanford nach Vancouver verlegt, weil sie bei manchen Betrachtern aneckte: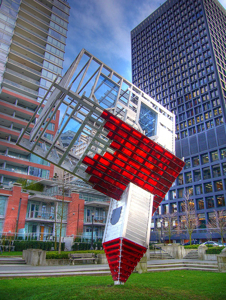 Ich kann dem Werk eine Menge abgewinnen. Der Kommentar des Künstlers dazu hat mir gut gefallen:
Turning the church upside down makes it more aggressive, but not blasphemous.
Technorati Tags: Armut, Gerechtigkeit, Kirche, Reichtum